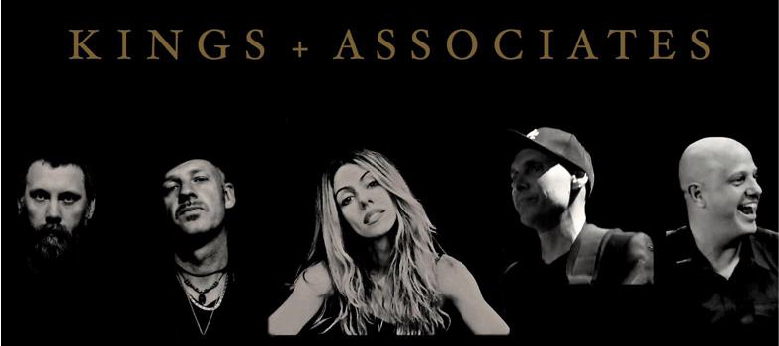 02 May

Exclusive Music Video Premiere: "Evergreen" – Superb Neo Blues From Kings & Associates
3 x Australian Blues Music Award winners 'Kings & Associates' hit the USA in July & August 2019 for a series of performances.
Kings & Associates will be heading to the USA in July performing a series of events commencing at Summerfest in Milwaukee and winding up on the West Coast at the Mammoth Lakes Bluespalooza in California on August 3rd. Other performances include Wausau and Milwaukee WI, Rockford and Chicago Il, Mishawaka and Gas City ID, Louisville KT, Knoxville and Memphis TN, Little Rock AR, Dallas TX, and LA and Morro Bay CA.
Their live show has been described as "lyrically honest", and "musically compelling" blending stories penned by co-lead vocalist and songwriter Angie Porto with the soulful blues vocals of Benjamin Cunningham.. himself being compared to the late blues cross-over great Johnny 'Guitar' Watson. The band comprising of Matt Williams, Kelv Sugars and Steve Portolesi are some of the finest musicians in Australia….collectively they have been labelled 'NEO BLUES'.
This band's rise from relative obscurity in southern Australia has been rapid and prolific. In just 4 years since forming the band has recorded 2 full length albums….the 2nd of which was tracked, produced and mixed by multi Grammy winners Jim Scott and Vance Powell….have showcased in Nashville, completed 2 tours to New Zealand, been featured on radio and streamed globally including the highly significant BBC2 with Paul Jones, and finished 2018 with 3 Australian BMI's after incredibly being nominated in every category. The band was also rewarded with a final 5 nomination at the 2019 IBC best self-produced album of the year award in Memphis.
What the critics have to say…..
"….produced by 7 time Grammy winner Jim Scott, the album promises to be a humdinger."
Randy Radic, Contributor HuffPost
Left Coast author, writer and editor.
"You are left emotionally drained after this soulful experience has concluded. There is such a seamless craftsmanship at work here that is cunning in its' deceivingly simple approach. The magical voices of Angela and Benjamin set against expert musicianship and top notch production propel this effort into greatness. Hearing is believing!"
Peter Szalony, Blues Blast Magazine
"Wow l think l have just been to heaven and delivered back a new man….."
Peter Merrett, PBS106.7, Melbourne, Australia